SUFFOCATION HAS BEEN SIMPLY ONE OF THE MOST INFLUENTIAL DEATH METAL BANDS SINCE THE BEGINNING OF 90'S. PERIOD. TODAY, ITS LEGENDARY STATUS OVERSHADOWS THE THORNY ROAD THE GENRE-DEFINING BAND HAD TO GO THROUGH THE YEARS AS THE LEADER, SO WE TOOK A SHORT TRIP BACK TO THE DAYS IT ALL STARTED TO RECALL SOME OF THE MEMORIES FROM THE PAST. ADOLF MET FRANK MULLEN, THE LEADER AND VOCALIST, TO TALK ABOUT THEIR DIFFICULT ROAD THROUGH THE 90'S, TAKING A BREAK, AND RE-UNITING IN A BEST FORM EVER. HAVING RELEASED A SELF-TITLED ALBUM RECENTLY, THE ALBUM SUFFOCATION IS THEIR BEST-SOUNDING ALBUM TO-DATE, INTENSIVE, FAST BUT STILL VARIOUS ENOUGH TO KEEP YOUR ATTENTION ALL THE WAY THROUGH THE END.
---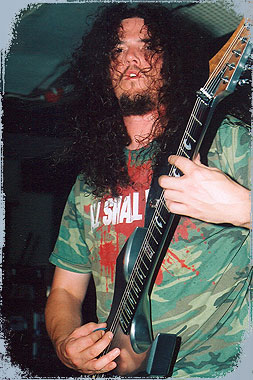 Back then in the 90's, why have you started to play fast brutal but still rather technical death metal than the straight forward death metal typical back then?
We have grown up with a lot of different influences and genres of music. We had speed, thrash, hard core, death metal – everything. We listened to a lot of things like Destruction, Kreator, Crow-Mags, Death and we just took everything, put it all together in one little pot, stirred it up, and put it all together. That is basically where our stuff came from. We wanted really fast, yet heavy breakdowns from hard core type of influences, and we wanted technicality from bands like Destruction and Kreator. So, it's just lot of the stuff that we would listen to because New York is a very diverse area. There's so many different types of people and so much is going on, so it enabled us to listen to a lot of different types of music.
Having seen an older picture of Mike Smith wearing an Atheist T-shirt, was Atheist or the old school bands your influences as well? (The debut album Effigy of the Forgotten is dedicated to the memory of Roger Patterson, the talented bass player of Atheist who was killed in a car accident
Atheist was definitelly an influence. I mean all the old school thrash – Slayer, Exodus, Devastation. Yeah, Devastation had really heavy slams and it would just go into very heavy stuff.
Your second album Breeding the Spawn had some very strong material but rather poor production compared to the legendary debut Effigy of the Forgotten. We have felt that the release really suffered by that. Do you have the same opinion?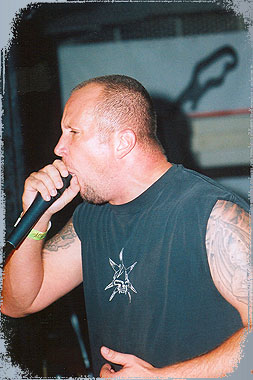 Yeah, definitely. That was all Roadrunner's fault. At the time when we recorded Effigy with Scott Burns and came back to do the Breeding the Spawn, Roadrunner was the one that said 'Hey, everybody is using Scott Burns, we don't want you to go in there. We want you to do something else.' We were kind of pissed off. We were like 'Hey, we want to work with Scott' because he was like the master back then. He knew how to put albums together. He knew how to make them sound like amazing albums. Roadrunner told us that we couldn't use him. So, we started looking around but couldn't really find anybody and we said 'All right, we got more money to do the album, so let's try the guy who did the Human Waste.' We went back to the studio where we recorded Human Waste and we threw up more money in, so he may be able to do something and it just came out horrible. It came out really bad and we just tried to do whatever we could to make it sound good and even the record label then came to the studio to apologize. They said: "We are sorry the way this thing turned out and on the next album you guys go do whatever you want." We were not happy with Breeding.
Is the lack of good production the reason why the title song Breeding the Spawn got re-recorded on the next Pierced From Within album?
We wanted to try to give Breeding a little chance, so you could really listen to it and then you could say "Wow, that's how it's supposed to sound!"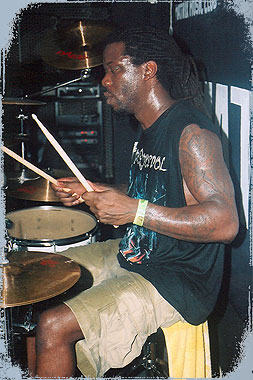 A lot of fans consider the technical drumming a key element of Suffocation music. Yet, there have been several changes of the drummer in your history: Mike was replaced by Doug, and later by Dave. What happened with that drummer's position?
A lot of different things happened in different times. Mike was upset the way Breeding came out. We sped up and he wanted to go different directions. So, he went and did his own thing. Doug went to high school with him [Mike] and he was available. He came on and he did Pierced from Within. For Despise the Sun, Doug Cerrito wanted just something really fast and crazy, so we contacted Dave Culross to do it. He was in Malevolent Creation at the time and he wanted to continue with Malevolent. We were very fortunate that every one of the drummers that we used was just crazy. They were all very good drummers and they all had different styles.
Do I understand it correctly that Doug left the band after recording Pierced From Within?
Not really. Doug Bohn did the Pierced From Within and then we just wanted to go a different direction for Despise the Sun. So, not necessarily left the band – it was a mutual thing. It was like "I'm going to do my thing now".
Before you disbanded, you put out the EP Despise the Sun, which starts with the intro sentence "The greatest trick the devil ever pulled was convincing the world he didn't exist." How did this idea come out?
That was Doug Cerrito – he heard that quote from a movie and said that's just fit perfect. It can't get any better than that.
Yeah, but why the devil? You are certainly far away from black metal lyrics.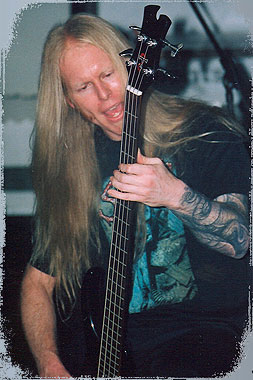 No, no, but we have touched on that we were just subjects and so on. It's just ironic and it just feels like the greatest trick the devil ever pulled was convincing the world he didn't exist.
Many Suffocation fans believe that Despise the Sun was actually your best record before you disbanded (apart from Effigy). Why have you put out your best release and then just called it a day?
We did Despise the Sun and there were a lot of different things going on. I was married for a very long time and my wife was giving me like 'when are you gonna stop doing this.' We put the EP out and the death metal scene itself started to decline – we just stopped doing shows. From the early 90's people were crazy and as it got to the later end of the 90's the crowd just wasn't there. People just weren't coming out. At that point I decided myself and said: "OK, my wife wanted me to quit, so I quit on a high note rather than on a really low note." So I said we put the album out, we had a good career, and I'll go do the marriage thing. But it didn't work out that way because after I quit, 3-4 years down the road I went to divorce. So, I was like: "Why did I quit the band in the first place if that's what happened?" That's when I called everybody and said: "Hey, do you want to put this thing together?"
Did the band completely stop playing after you left?
Yeah, they pretty much felt like if I wasn't going to be there, let's just end it like this. Let's not try to get somebody else. We all pretty much agreed at that point, it was a mutual decision to let know everybody that's it.
Why didn't the rest of the band try to get a new vocalist?
A lot of them felt that my vocals and singing was unique to what was going on. Rather quit than try to bring somebody else in, and people say horrible things about the band after that like: "Oh, they brought him in and we don't like it." Everybody was frustrated at that time. It was 8-9 year career at that point and it was like "let's just all take a break, let's go do our own things and who knows – you never know what the future could bring."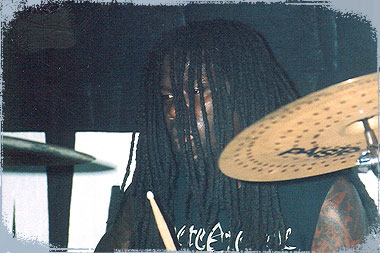 What was your motivation to re-start the band?
I've always enjoyed doing it. Once you start doing music, there's nothing else that you can compare to what you are doing. When I went through the divorce I had an opportunity to call the guys and ask what they think. If they are interested in doing it, then I'll do it. If they were like "No, I don't wanna do it", then I won't. When I called, the majority of the guys like Terrance and Mike said "Yes, I'm interested in doing it". I said "OK, that's all I need." So, I quit my job, moved back home, and put it together.
How did Mike Smith get back to the band with the re-union?
He was one of the first people I contacted. Because when I was thinking about it at home in Las Vegas, I said: "You know what? I would really love to have the original line-up." So, I contacted Mike, Doug Cerrito, and Chris Richards. Originally that was my plan – to call everybody from the original line-up. Doug Cerrito was doing his own thing. He's got his own business. For him it was really hard, he said "I can't really do it." Chris Richards didn't really return any phone calls for a long time, so I said all right I am not going to hunt him down. Then I had the majority of the people – Terrance, Mike, myself, and Guy Marchais who actually used to play with us for a little while when we were younger just putting the band together. Then he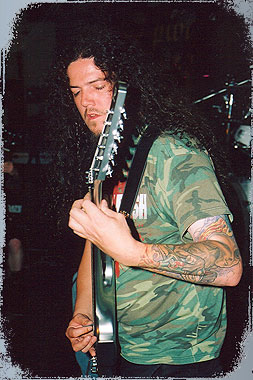 went on to do Internal Bleeding, Pyrexia. He was actually jamming with Mike at that time and he said: "Hey, if Doug doesn't want to do it and he's not going to do it, then I will because I would love to." Then he came in and the last missing piece was Derek Boyer. I've known him a lot since the younger days when he was a kid. He's come out the California shows and he was outstanding on the bass. I saw him playing with Vital Remains in one of the tests we did when we first got back together because Josh was playing. But Josh gets too messed up in drugs. It's really bad – he came in, he was OK, and as soon as it's in front of him, he's just completely nuts. So, we saw him playing with Vital Remains and said: "There may be something going on." He said: "I would love the chance and the opportunity." We had Josh then go, Derek come down, and there we are!
Why then didn't Derek record the bass parts on the Souls to Deny album? He is not in the recording line-up but he is included in the thank-you section.
He came in at the very last part of recording the album. So, we didn't have the time to learn all the songs for the album. What we did, we recorded the album ourselves and then started touring together because most of it was already just about done when he finally come in.
The bass parts have been then recorded by your drummer Mike Smith. This is quite interesting to me…
Yes, he plays guitar and he can play anything. He's got a lot of talent. He and Terrance were the ones who did the bass tracks on Souls to Deny.
Why have you decided to record Souls to Deny in Port Jefferson
The studio that we went to in Port Jefferson was actually a studio that is owned by our live sound guy Joe that we bring to all our live shows. He himself owns a studio and he said: "Hey, I would love the opportunity to record the album." It also gave us a free reign over what we wanted to do with the album in the studio. We recorded it ourselves and it came out great. It came out good, I was happy, but the new album that is coming out next month is just crazy. We recorded it in the same studio, new equipment, and better stuff. To me it's the best sounding album we have ever had.
Have you considered going to Florida for the recording?
Morrisound isn't really the same anymore and Scott Burns isn't doing anything. He's all retired from that stuff. We wanted to try going somewhere we would feel comfortable and where we would have complete reign over what we want to do. We didn't want to go down there and work with a different engineer. He may want to do different things that we wanted to do.
Back in these days, you really started to write horror-inspired lyrics. What is your inspiration these days?
I try to touch on things that people can relate to: it's something you are going through, whether it's something you're feeling inside your head or what's going on in the world around us rather than just do straight gore lyrics. The lyrics definitely changed. Back then, we were kids being like "All right, I'm gonna write this and hack up this and chop it." As you get older you mature and I want to write something that I'm feeling or somebody did something to me that I don't necessarily agree with.
Is it the same on the new self-titled album?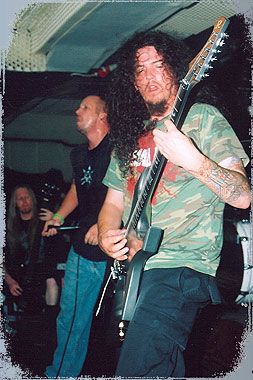 Yes, the same type of lyrical content. Derek wrote some songs lyric-wise, I wrote some songs lyric-wise, Mike wrote lyrics, and even Terrance wrote lyrics on this new album. Everybody chipped in and put his own ideas on the album.
Why have you toured in August 2006, just before the new self-titled album is released?
We haven't been in Europe in a while. It's been two years. Our old booking agent totally screwed us, so we felt like let's come over here and let's play a few shows. Then we will come back when the new album is out because we were supposed to come back one other time before this tour and it got all screwed up. Last thing, he [the old booking agent] was trying to book a bunch of shows and he couldn't get that done right. He had like ten days off in the middle and I'm like: "I'm not gonna come here and sit here for ten days." So, we decided to come here, do a quick little tour, and let people see that we're still there and didn't forget. When the new album comes out, then we'll come back to do a European tour for the new album. We will try to come back to Europe like February-March 2007 because when we get back home we got a US tour set up with Fear Factory, Hypocrisy, and Decapitated.
What would the band like to achieve in 2007?
We definitely want to get on high-profile tours, get a bigger fan base, and really push this album. We will see where it goes from there. We want to thank all fans for continued support and showing up for our shows in the Czech Republic. We are just happy to be out playing. Stay brutal and we'll see you guys soon.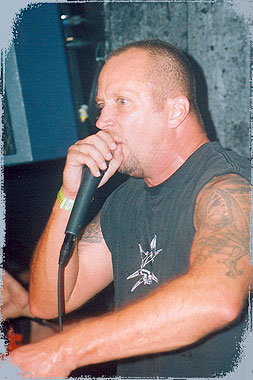 The Reincremation (Demo 1990)
Human Waste (EP 1991, Relapse)
Effigy of the Forgotten (CD 1991, Roadrunner)
Breeding the Spawn (CD 1993, Roadrunner)
Pierced from Within(CD 1995, Roadrunner)
Despise the Sun (EP 1998, Relapse)
Souls to Deny (CD 2004, Relapse)
The Close of a Chapter (Quebec City - Live 2005 (CD 2006, self-released))
Suffocation (CD 2006, Relapse)
Frank Mullen - Vocals (1990-1998, 2003-)
Terrance Hobbs - Guitar (1990-1998, 2003-)
Guy Marchais - Guitar (1990, 2003-)
Derek Boyer - Bass (2004-)
Mike Smith - Drums (1990-1994, 2003-)
Former members
Doug Cerrito - Guitar (1990-1998)
Josh Barohn - Bass (1990-1993, 2003)
Chris Richards - Bass (1992-1998)
Doug Bohn - Drums (1994-1996)
Dave Culross - Drums (1996-1998)
www.suffocation.us
www.myspace.com/suffocation