OBSCENE EXTREME FEST 2008
Though it may seem a bizarre idea to begin a new special for a summer fest during Christmas we think it is just the best time during these gloomy and snowy days to bring you at least in these few lines an attractive view of drinking beer during an incredible music set at the summer fest!!! Aaauuurrgghhh!!! And as OEF, one of the best fests as far as we are concerned announced the first bands we want to come with commentaries of all the in advance announced bands for this anniversary volume. So, here the OEF 2008 SPECIAL for all the fans!!!!

update: 24-12-2007

---
According to the first announced names for the new OEF it seems so far as a crush of overseas acquisitions. One of the names are for the time being quite unknown Americans from California called BLOODY PHOENIX though their actual album "War, Hate & Misery" allows the assumption it will be a solid demolition show. The guitar player Jerry is going to tell you what you can be looking forward to in summer…
How well do you know the OEF? What do you know about it and how did you learn about it? What do you expect from playing at this fest?
To be honest, I really had not heard much about it until more recently. I had heard the name mentioned before but never really looked into it. I know it's a very big outdoor fest in the Czech Republic. Everyone I talk to who knows about it says it's a great fest, very well organized and that it is so much fun to be a part of. I was urged by a few people to get in touch with Curby once they found out we were touring europe next summer.. I expect a great drunken time with a lot of new friends.
Your band might not be known for many fans. Could you introduce it briefly?
Sure. We are from Los Angeles, we've been around since October 2001, our songs are pure, honest, short, and intense. Nothing fancy, just straight in your face.
You come from Los Angeles. It does not seem to me as a city devoted to grind core. Or am I wrong? Can you give us an idea of your scene there?
Hmm, LA is always changing. We have some years when it's great for Grindcore and others when it's not so great. Right now though, there are plenty of people into grindcore. LA is a huge city and there are different areas to it, some that are very grindcore friendly. We have a good handful of solid bands out here too. LA has had a steady influx of grindcore bands since the mid-80s. Some of those early bands didn't know that what they were playing would later be called grindcore.
Have you played at a similar big fest as OEF?
No, not even close. This will be a first for us for sure. I can't wait.
What message would you send to all the fans who are going to come to OEF 2008? What can the fans expect from BP?
You won't see a big stage show, we are not entertainers. You won't see much interaction. We just play our stuff as violent as possible. You can expect nothing but 100% intensity. Nothing less.
www.myspace.com/bloodyphoenix1

update: 24-12-2007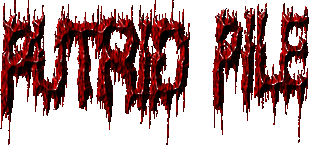 ---
PUTRID PILE is a one-man band from Wisconsin, USA who is going to smash all the doubters who think a one-man band is not able to rev up many fans in the OEF pit using his heavyweight brutal death metal. However, one wise proverb says that even a little clown can do a big performance. Let us give Shaun who is behind all this project a chance.
How well do you know the OEF? What do you know about it and how did you learn about it? What do you expect from playing at this fest?
Well, i know that its only the sickest fest EVER! HA HA!! 3500 of the sickest extreme metal fans in the world! I know from talking to the bands from the states that have played the festival thats its the best time ill probably ever have playing an open air! I hear that the people are great and a joy to be around and the beer flows like a river. i cant wait to play the OEF '08 and party down with some old friends and make some new ones in the process!!
Has PUTRID PILE played at a similar fest in the USA or anywhere else?
The biggest festival ive played in the US would have to be Maryland Deathfest. there's about 5 or 600 people that go to that fest. the biggest festival ive played in europe would have to be the Deathfeast Open Air in Hunxe, Germany. there was probably a little over 1000 people at that one ad i had a great time at both fests. This will be the biggest festival ive ever played anywhere and im really looking forward to grinding up the stage with all of the great bands that will be playing!
PUTRID PILE is a one man band. Why? Won`t the fans be deprived of a proper live show?
I dont think so. all of the shows ive played in the past have really been great! the kind people of OEF and CZ. seem like they would give me a chance before they would be judgmental. I will still bring a ferocious show and im sure the grindheads there wont be disappointed. Its all about the music! what comes through the PA speakers and how it makes people feel. I will be sure to do my best to crush everyone there! LOL!!
Do you have any experience with playing live in Europe? If so, what was it like here and was there any difference from playing in the US?
Ive played in Germany 3 times now and plan to play a 4th next year at the NRW fest in Wermelskirchen. Ive played 2 times at the NRW deathfest and once at the 1st annual Deathfeast. I love the crowds in Europe!! I love all of the stage diving and headbanging. US bands seem to get great feedback and energy from the crowd and it helps us for a better performance. theres always a grea time and such friendly people over in europe and i can never wait to get back there whenever i return home from a sick show over there! CHEERS!
What message would you send to all the fans who are going to come to OEF 2008? What can the fans expect from PP?
Expect there to be mass ammounts of energy and an awsome time durring the Putrid Pile set. Be sure to grab a couple of beers and let the music do the talking. it will be nice to see the people out there that i have talked to for so many years! thank you Curby for the incredible opportunity and thanks to all of the fans that have been loyal fr so many years. I'll see you all very soon! HAIL!
www.myspace.com/putridpile

BLOODY PHOENIX
update: 24-12-2007
PUTRID PILE
update: 24-12-2007
comments:
---
No entry posted so far

INPUT YOUR COMMENT