ENTOMBED, UNLEASHED, GRAVE, DISMEMBER, EXTERMINATOR

16.11.2006 - AJZ Talschock - Chemnitz
A several months in advance announced collective tour of four bands that had given the term Swedish death metal a meaning could not let the fans of this style calm for the whole time and made them unpatiently check the calendar how many days are there left before the Swedish death itself strikes in the form of the DISMEMBER, ENTOMBED, GRAVE, UNLEASHED tour.
---
Such an unprecedent event could not avoid attracting our interest too. We could not forego seeing the bands that not only had been creating the style but are still very much appreciated in the whole scene on one stage and promise a delicious portion of great music labelled with the tag of the best quality. After we had found out the tour schedule is going to omit our homeland the choice fell on the nearest stop. East German town of Chemnitz. The bank holiday the following day of 17th November played its role of course. I did appreciate that very much the day after.
All of us were on time for the meeting at Ada`s and so very soon the whole crew of five got in the car. The journey passed by in nice discussions briefly interupted just by minor complication at the border where we found out a lamp was broken which was fixed at a nearby German petrol station. We got to the location in Chemnitz without problems about one hour befor the show began. It shall start at 20:00. No one dares to doubt about that with regard to the famous German sense of precision. In front of the club (older, isolated, large building of a residential type) there mustered some tens of fans many of them speaking Czech. This supports my opinion that it would have had good attendance had it arrived to Czechia. Once it had opened the crowd of fans disappered in the building followed by all of us. We knew in advance there was no headliner for this tour and that the bands took regular turns in this position since the very beginning. I wonder who is going to top the bill today. I wished in my mind my big favourites Dismember or Entombed could finish today and am really very satisfied to see in the list Entombed is the last band today which promises at least some encores. I was a bit sorry on the other hand because Dismember who played yesterday`s finale are playing the warm up to today. However, in the case of this tour it is kind of all the same. All the bands have the same time for their set: 45 + 15 minutes for the sound check and preparation. You may say it is not much but during the concert itself it is optimal. It is not boring, it is not too long and mainly – it has a drive.
The first band however was the German EXTERMINATOR, who had been starting the show during the whole tour. I was not expecting anything surprising. Yet the name evoking the 80`s and a run of the mill logo were the omen this could be a bit boring. My anticipation came true. Flabby, backwoods death/thrash, without an idea and a fingerful of musicalness. They were not very good at both poses and headbanging and the evil look of the singer and guitar player were kind of embarrasing. One is forced to think about what a band like this has to do to play at such a tour. This is not the theme of course I would like to dissect here. We were waiting for a show of the four Swedish bands maybe we could tell cult bands who many years ago had been forming the basis of Swedish death metal that still undoubtedly means a lot today regardless of the layer of dust. Although they all had a similar start, had similar roots and sound from the same studio and made LPs that are the pillars of this style their fates and at the same time their evolution and their individual approach to death metal were very diverse. That is why this was a unique chance to see them all on one stage and assess them as objective as possible.
As I have mentioned earlier the first band to attack the stage was DISMEMBER. Right after a style intro they assaulted a properly filled hall of 300 or maybe more heads with a full strength by "Skinfather". DISMEMBER played again very released and enjoyed the show obviously. They were devastating our brain cells relentlessly with further songs as "Pieces, Casket Garden, Skin Her Alive, Override the Overture, Autopsy, Of Fire, Tragedy of the Faithful, Let the Napalm Rain" and one can feel an enormous feeling, energy and bravura of the players. Again a very well played show like on OEF. Although the sound was not that optimal at the beginning it was getting better and better and underlined the whole high quality of the show. Their set was finished by the song "Dreaming In Red" with a melodic bass line that traditionally finishes this death metal storm. By the way I maybe have not heard such a well sounding bass with a metal band ever. I guess I can summon up saying that if there were nothing more on I still would have left satisfied. However, there was a lot to happen and it was worth staying! And DISMEMBER took care of a splended intro for the evening
Now it was GRAVE`s turn who after their reunion perform a heavy-weight death metal alternating fast and rolling, medium movements. But they add one more tempi on their last album. We have something to be looking forward to then. I was really curious to see the guys perform. Right after a horror intro they let their killing show loose. It is quite clear this is going to be the most brutal performance of this style in today`s concert. Massive and concise sound pushes everybody to the ground. Absolutely extreme! Though sometimes you can feel a certain clumsiness in comparison to DISMEMBER that might be caused by the sound that is too unequal as for me; too much voice and percussion. I blame the new drummer. Though I have to stress all the songs were played with a big portion of certainty. Without big ambages GRAVE played songs like "Burn, Through Eternity, Unholy Terror, Rise, And Here I Die" off the cuff quickly one after another allowing no one to have a rest. Mostly GRAVE let me feel the spirit of the beginning of the Swedish death metal as if every song were imbued by this mighty heritage. So, after the hit "Into the Grave" from the first album and though just one member belongsto the original GRAVE line-up I have a feeling as if I turned back to the dawning of the 90`s. We could enjoy some more old songs like "You´ll Never See" from the second or "Soulless" and "Turning Black" from the third album. Massive and destroying show though it might have sounded kind of monotonic at the end.
The next band were UNLEASHED. It was the band I would not say I was the least interested in but rather I did not know what to expect. I had quitted to listen to them after the album "Across The Open Sea" though they used to be my most favourite one ever. Both the music and the texts went that way I was not enjoying much. Their texts full of warriors and Norman mythology did not suit me at all. Their quality was also more than arguable. Sure, they are real bloody Vikings! And Johnny does look like that too. But this proud showing of mjollnir and those too right-wing opinions. Nothing for me! Apart from the fact that the music itself went down significantly too. All their further albums were really boring for me and so even after their comeback I did not find the courage to listen to them. Especially after the poor critique. I was not expecting much. You can imagine the surprise when Ada told me before we set off that he had bought their new album "Midvinterblot" and that it is excellent. We listened to it in the car for a while and I had to admit that he was right. I was really very curious what this band is going to offer.
And I could not keep wondering! After the initial call of Johnny Hedlund "Are you here warriors?" a pretty fast action began. Maybe the best sound and the best musical performance made it a great show. The band know very well their strong point and can use that. Their music is not very complicated which is a big advantage for playing live and they are able to perform and build it the way it is not obvious for the first impression and songs like "Blood of Lies, To Asgaard We Fly" have the needed drive. They can entrance people by skillful melodic solos, good riffs and refrains Johnny plays with and captivates people. "In Victory or Defeat" can be a good example. He played with the part of refrain "Death metal, no compromise" and made the whole motto of the set out of that. It was really impressive. His sovereignty and bravura he directed the concert with helped it a lot. In any case the biggest response had just UNLEASHED! It is the most obvious during the last song "Death Metal Victory" from the album "Warriors". It may somehow induce a comprehensive smile but the whole crowd was shouting that in the end.
I do not know if it is because they play here quite often and have a recording contract with a German firm but definitely you could feel as if they were at home here. I was glad to hear older songs like "The Immortals" and "Shadows In The Deep" and "Into Glory Ride" from the unforgettable debut. My overall impression from UNLEASHED is good and I only hope that all their right-wing slogans, opinions and comments are just a piece of fun. It would be a pitty for UNLEASHED. Especially when the whole concert was held under a big white sheet with logos "Hate Fascism" and "Good Day For White Power!" The one who knows the logos knows which I am talking about
And now the grand finale á la ENTOMBED comes. I have to admit I was looking froward to see just ENTOMBED very much. I had the last possibility to see their show being on tour with ND after Wolverine Blues. That is why I was expecting a hammer. It is true that they especially have the least in common with death metal regarding all the bands on "Master Of Death" tour and are much different from how they were at that time. However, I like their music regardless of the style shifts. The current death ´n´ roll when they kind of return to their top period around "Wolverine Blues" suits me simply. The last album "Inferno" is a bit weaker but the mini "When In Sodom" is again a proper material. In spite of that all one should not forget that their first two albums are the basic building stone of this style. I was kind of expecting that we could hear a bit more from these two albums than in an usual show. And I was right!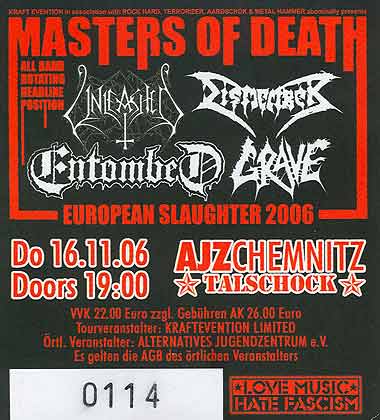 "When in Sodom" was the initial song followed by "Eyemaster". Then the cult song "Left Hand Path" was played from the debut album followed by another cult one "Revel in Flesh". We could hear them play also pieces like "Crawl", "Stranger Aeons" and "Sinners Bleed" from the album "Clandestine". Unfortunately, it was very hard to swallow them having been performed like this. In the first place the sound that was mighty indeed but it was missing the purity. It was kind of foggy and hard to read. Even when Lars-Goran was introducing anothar song it was almost unintelligible! The main problem may be that ENTOMBED are definitively out of this genre. It is obvious that the new drummer though I have to admit he was a master of his instrument is very far from the metal way of playing drums. That is why ENTOMBED sounded like an indie band even playing their early songs! Belive me I am not exagerrating!
"Left Hand Path" such an overwhelming death metal hymn sounded here like someone else`s cover. The whole set was intensive and full of energy but the sound was patchy. That is why their set was missing compactness. In spite of that the reaction of the audience was very open. People applauded keenly after every song. Lars-Goran with an expression of a lunatic banged his thinning head franticly and his motion resembled something among Barny, Ozzy and a half-mad dervish. He raved like an inmate of a madhouse. This is to fully describe the energetic and intensive aspect of their show. Finally I surrendered too regardless of the bad sound.
They played such hits like "Chief Rebel Angel" from the album "Morning Star" and the whole show finished with the song "Out Of Hell" from Wolverine. Well, and the end is nigh! It is clear that they would add something as the last band. I was still missing "Holowman" and so I was expecting it for sure after the band came back on the stage. To my surprise Lars introduced another song as a cover which turned out to be "Night Of Vampire" from their double album of covers "Sons of Satan Praise The Lord." After that they played one more mosh song that really finished the show. The fact is that ENTOMBED and death metal separated a long time ago and this tour is going to change nothing on that. In any case, in spite of all I wrote & in spite of the fact they did not play "Hollowman" I liked it. I hope I will not be unpleasantly surprised when I listen to their new, already announced album.
As a conclusion I have to say: "I am really glad I could be there for this concert!" It was a unique occassion that is likely never going to repeat. I have seen bands that once had opened the door to the world of extreme music to me on one stage.