07.10.06 text: Martin pics: Obscene Extreme
Me and Áda do not differ on the fact that it is worth writing about live events but who is going to do it. If no one is going to be found, Amen. I might agree to this in any other case except for OEF. It is such a special festival that it would be a shame not to mention it in The SUFFERING. It is more than symbolic OEF 2006 is going to be the 1st article in this category. Unfortunately, what I was most afraid of has happened. If I want a review, I have to write it myself.
---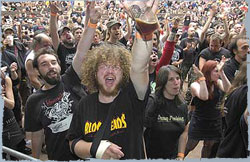 The promised review from grind/death maniac Sobi I was looking forward to has to be forgotten due to his total lack of sobriety during the fest. Maybe next time. Now I am facing the decision which of options to choose, both being bad. From a logical point of view it may be better to write nothing about OEF and avoid the risk of pissing off the orthodox death/grind fans and a band or two too at the same time. Secondly; I am not a big underground death/grind expert and I do not know most of the bands even by a name. Thirdly; and most importantly I did not see many bands at all. So, it does not seem to me very fair to mention only some of them. With respect to the fact that I read interesting reviews about the past years of OEF in other zines with some exceptions only describing the event itself I would reproach myself not having mentioned such an outstandig event in The SUFFERING. Some shit for sure will fall on my head but I am going to accept it! Putting my ideas into PC does not mean it will be there on the web. On the other hand why to do a redundant work?!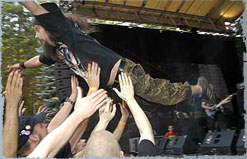 As I said before I consider OEF a very successful fest. I like it though I am not an orthodox death/grind worshipper and lover of all kinds of extremes. I just feel fine there. The best was Vlakin`s formulation when he though a bit drunk just after the end of this year OEF seriously commented the event. I was a bit surprised to hear from a frontman of a grind core combo that the overall atmosphere at OEF is a "family idyll" but I could not but agree. This 8th year was one of the most friendly ones... (I hope you understand I am not writing that to ensure a backstage pass from Curby next year but I fucking feel like this)
Unfortunately, the same cannot be said about the journey to the fest. A slight delay appears right from the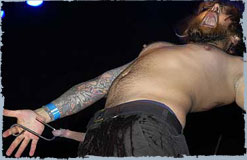 start before we set off. In the moment we should have been heading for Trutnov I am still sitting in the office starting up the back up systems of the internal net of my employer. I am ignoring a hysterical ringing of my mobile and am praying to the main server not to fuck up as it was by coincidence in the case of the OEF last year when I spent the whole weekend in my office instead. Alls well that ends well and the delay is acceptable. The delay increased a bit during the journey as our driver, scared by the newly intalled traffic point system, drove significantly under the speed limit featuring the slogan: less means more.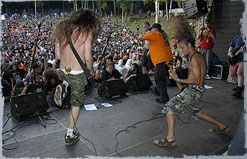 That is why I missed two bands I was really looking forward to see. The 1st one are N.C.C. whose latest vinyl "Sick Atoms" I got once from Curby. I was surprised by their experimental grind core and consider it a very hgh quality and concise product. I like it very much. I was pretty curious to hear N.C.C. play it live. The 2nd one is a new acquisition at Obscene. The band called SPLITTER from Sweden. Their mini CD called "En Sorglig Historia" which was released lately brings extreme material which is vary near to my notion of modern extreme music. I could hear their set to be finishing when we entered the gate. Maybe next time!?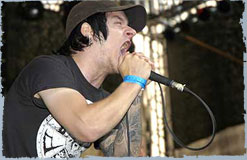 The first band I could see with my own eyes are WASTEFORM from US. Quality energetic brutal American death metal with a heavy-load vocalist. A very solid set that I was not able to see to the end. The same for the following band named INTERNAL SUFFERING. One meets well-known faces and to find a place for a tent is a good thing too. Me and my friend "Thirst" could not erect the fucking cunt for love nor money in the night. Good thing is we could use the backstage. The camp is desperately full. It is unbelievable that there seemed to be a few hundred more people than last year. The capacity is kind of pushed to the limit really. To find a place to park the car is a hard task too.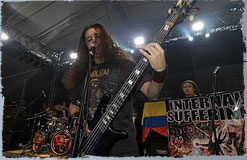 Just a little remark. A significant change that is quite obvious is the ratio between home and away visitors that turns to the advantage of foreign fans clearly. If it is good or bad for the home scene is not sure. The next band as I have mentioned are the Columbian INTERNAL SUFFERING. I know this band more or less by the name. Their brutal death metal in an american style surprised me pleasantly. Fairly well played technical parts, aggresive and convincing. I think Čurby succeeds to get in addition to the quality names also not so well-known bands to OEF that are able to equal the better known ones or even to outperform them.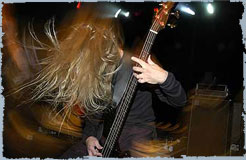 It is like this in the case of the Dutch SINISTER. The days of "Cross the Styx" and their tour with CC are gone. I did not like their last performance and this feeling stayed unchanged. Their set was not missing drive, aggression, good sound as it is on the last album. The tone is however a bit empty. I was expecting more in deed. Bart declared they do not plan any comeback to the death metal heights. They are satisfied as it is now and they enjoy it. That is nice and nothing else remains but to wish them many yaers of good music. However, I cannot help myself. Even when playing the tracks from "Cross the Styx" it sounds simply different. Anyway, their kind of death metal found its fans here without any doubts.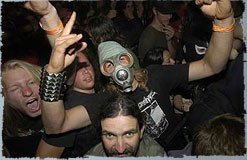 It is dark at that time and the projections are shown there on the screen during the performance of SINISTER which is a totally outstanding idea for me. You can see on the screen what is going on there on the stage. The shots from the podium are mixed with hardly digestible films delivered by Mr. Chymus. I think it is a good direction for OEF!
I do not see the following well-known CRIPPLE BASTARDS which I regret. Their shows are always mad and I do not think with regard to their concert dresses, e.g. "Sqadra Azura" with a goalkeeper behind the drums they made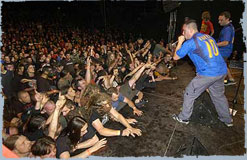 an exception to this rule. I could see Zidane among the fans (one of the fans had his French dress on ). I would be interested to know who was Materatzzi...??? Maybe the famous headbutt repeated somewhere (by the way concerning intersting blokes it was a nice deviation show again this year and again no one was upset as it is the nice tradition here). My friend "Thirst" is to blame I misssed them. He lured me into one of the bars under false pretences of a very important discussion and insidiously swilled shots of spirits down my throat. To my misfortune I surrendered and could not see the CB. The next day I could only curse a horrible headache.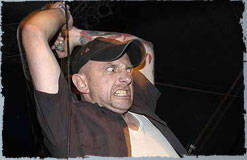 After CB there comes a successfully proven double block of experienced globetrotters DEAD INFECTION and well-known SQUASH BOWELS. DEAD INFECTION have played here several times. Though I do not want to compare their previous shows and the one at OEF but they fell slightly short of expectations here. Yet, a quality portion of massacring, intensive grind core. The same can be said about SQUASH BOWELS. Some months ago I had the opportunity to see them on their tour in a club and it was a devastating grind core that crushed me totally. Here it seemed to me a bit without a taste. Such a professorial performance. It may have been also due to a bit of exhaustion or a bit of alcohol that blured my mind more and more.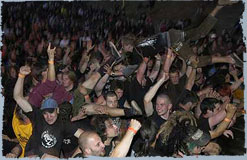 Then the home band MINCING FURY AND....(some rubbish) enters the stage. I was looking forward to see this band indeed. It was them who played before SQUASH BOWELS at the concert I have mentioned and they did not do bad definitely. With one more vocalist it is quite a solid rumpus. Not an exceptional and complicated music but totally spontaneus and intensive. I must admit I like the kind of Grind core they play. I am not sure it is a good comparison but the show resembles good old cult Plastic Grave and their great, unforgettable actions. It is a long time ago but when I see M.F.A.G.C.O.Q.D. I cannot help but remember it.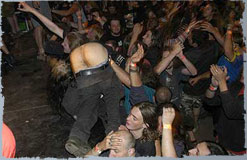 I cannot go further and exhaustion uncompromisingly and irreversibly commands me to search for the hospitality of our teepee. As a result I can hear the two last bands - >PRETTY LITTLE FLOWER and SAYWHY? only as fragments in my restless sleep after an exciting and hectic day.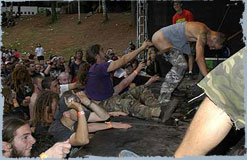 Saturday morning is somewhat harsh after a demanding Friday. An early morning like this! I do not consider the waddle of our German neighbours and the verbal excrements of SPASM vocalist a good start to the new day. Listening to something about a cunt hair between teeth when trying to kill the aftertaste of my toothpaste is not very helpful. Unfortunately, I am spending the whole morning lying down due to my indisposition.
I am able to remember the Polish EPITOME and TOXIC BONKERS but I would like to avoid any comments. I skip the following MUMAKIL too. This time the reason is both a prosaic and a personal one; the main idea is not to miss the next band.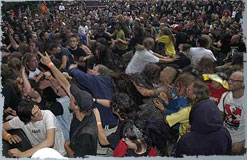 It is the home ALIENATION MENTAL. I have not had the honour to hear them before but I heard a lot of complimentary remarks. That is why I was really curious. What I saw surprised me truely. Not only their original masks all members had (Curby was happy for sure) but mainly the music. Intensive and inventive portion of grind core with a lot of changes and musical surprises which were played very well. The compositions may seem to be too long sometimes but it is a matter of opinion. I liked them very much.
FROMTHEASHES come from Sweden and play grind core where the influence of an old school grind core can be sensed. They are up there with the better bands at this year`s OEF. They are a good promise for the future.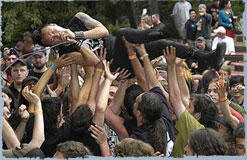 The following crust/punk PISSCHRIST from Australia show us a very good performance that most of the fans accept with a lot of action in front of the stage. Their lively frontman who looks like a typical Asian sauces it with his hysterical performance and punk frenzy.
F.U.B.A.R. belong kind of to the same genre but their performance appeares a bit forced to me. I could not see the whole set as I had to attend for something else. I also missed the following MASSGRAVE for the same reason.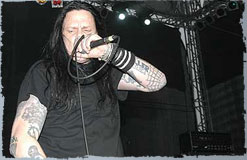 The next delicacy is a must and I do not want to miss it. My favourite DRILLER KILLER are a big disappointment though. I do not understand how it is possible to show such a dry and boring action when playing the kind of extreme music they play at such an extreme festival. The vocalist seemed as if he wished to be somewhere else and the rest of the band was also without any drive. I do not know if DRILLER KILLER just had a very bad day or what the reason could have been. Definitely, I would be ashamed to play like this even in a rehearsal room.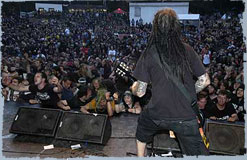 I was in a much better mood when next Swedish band started its set. It is SKITSYSTEM. An outstanding portion of intensive and raging mix of crust, hc, grind core and punk spontaneity. A great show supported by projections starts to move the crowd under the stage and the security guys upon it have a lot to do. I did not know the band before and it is more than a nice surprise to me.
Nowadays the cult pornogrinders GUT are the next band. Their resurrection is a big event for many fans and it seems their performance on OEF is very much expected. I must stress in the first instance I never was a fan of theirs. I was not a fan in the days of their previous career and I am not now. Their porno topics are more amusing than somehow provocative or outrageous. I suppose their performance proved what I said was true. I am not sure if I should stress the embarrassing moment when they were looking for a slut for their swallow-a-dildo-competition or express deep regret for the simple-minded bullshit they talked twice as much as they played music. If GUT use this would-be strong talk to massage their ego, I regeret them deeply. One cannot see such an absurd theatre every day on the other hand. Their vain searching for a slut reminded me of the film "Hoří má panenko" from Milos Forman. I was not amused that much for a long time! Though I do not want to deny GUT one important thing! When they finally started to play it was outstanding. Their slow, masive grind core with a good sound was a totally grinding performance!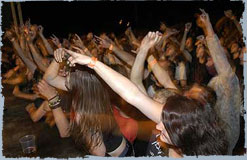 The inevitable self-adulation of GUT got just an indifferent reply from the audience. Finally the Swedish death called DISMEMBER comes in such a big style that even they themselves were taken by surprise. I had not seen them live for a very long time but I do not remember if I have ever seen them play with such a drive and in such a good condition. Totally gorgeous, outstanding show that started with such hits as "Reborn in Blasphemy, Her Skin Alive, Trendkiller, Soon to be Dead, Skinfather...". Intensive death metal is nailing me totally to the ground and I can free myself only after a bonus. Outstanding, precise performance, total sound and drive. The reaction of the audience was totally adequate and the chant "DISMEMBER, DISMEMBER...", is floating through the night. Absolutely justified...!!!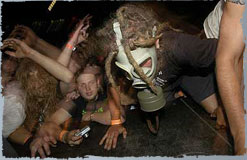 I did not see the next bands. The interview with Dismember stretched for about two hours. That is why I see neither BLOCKHEADS nor BATHTUB SHITTERfrom Japan and NASHGUL. The next two bands I wanted to see DEFEATED SANITY and UPRISE fall prey to the confusion before the departure.
In spite of the chaotic finish my assessment can only be that once again CURBY organised a great fest & he deserves a big Thanks!!!
As my roommate "Thirst" pointed out correctly:" If I am still here, we meet again next year at OEF again!!!!!