specials in total: 2 &nbsp &nbsp pages in total: 1 &nbsp &nbsp
1
&nbsp
---

OBSCENE EXTREME FEST 2008
24.12.07 · Special · BLOODY PHOENIX · PUTRID PILE ·
Though it may seem a bizarre idea to begin a new special for a summer fest during Christmas we think it is just the best time during these gloomy and snowy days to bring you at least in these few lines an attractive view of drinking beer during an incredible music set at the summer fest!!! Aaauuurrgghhh!!! And as OEF, one of the best fests as far as we are concerned announced the first bands we want to come with commentaries of all the in advance announced bands for this anniversary volume. So, here the OEF 2008 SPECIAL for all the fans!!!!
...the whole special report
---
SUMMER CZECH MADNESS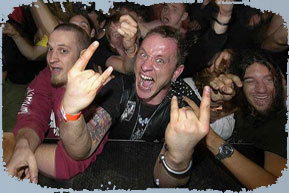 22.06.07 · Special ·ASSASSIN · BEHEMOTH · BIRDFLESH · BRUTAL TRUTH · DEBUSTROL · DYING FETUS · GENERAL SURGERY · GRAVE · IMMOLATION · INHUMATE · LENG TCHE · ROMPEPROP · ROTTEN SOUND · WACO JESUS
The time has come for us to support some of the recognized Czech summer festivals. What we mean by recognized festivals is mainly the Obscene Extreme and Brutal Assault. The purpose of this special report is to give you a response from some of the main performers before these festivals take place.
...the whole special report
---